And the Winner is....
July 4th, 2007 (01:40 pm)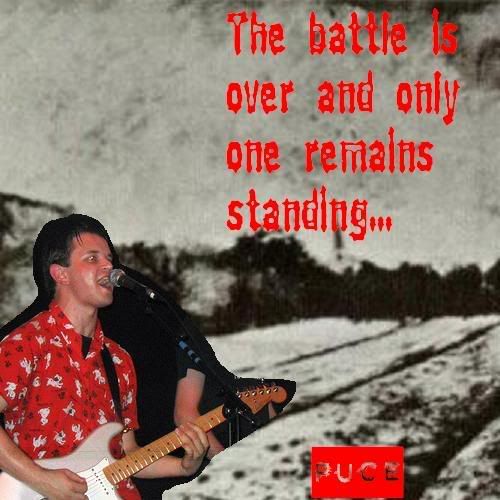 It was a very close battle but in the end, Puce defeated FBF to win the Nur Ein!

The final score: Puce- 26, FBF- 25.

Puce started off the Nur Ein very strong with a victory in the Sister Cocaine fight. Then in the 3rd round, State of Emergency, wowed everything with a dynamic collaboration with Songfight legend Brad Sucks and won that round as well. Then in the 5th round, The Thing Most Easily Forgotten, Puce almost faced elimination but he narrowly beat out his Mostly Harmless bandmate Plat by 1 point to stay in the competition. Puce returned to form in the sixth round, winning the Last Hope battle. In the final battle, Heart of a Lion, the voting was close. But Puce came out victorious by a single vote. And now, he reigns supreme as the last one standing, winner of the 2007 Nur Ein!!!! Glückwünsche!!!!!!